NO WAITING & FRIENDLY
SERVICE
Title & Registration &
Driver License: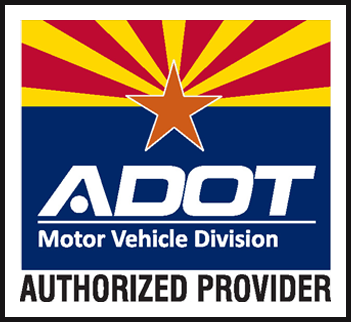 Effective Saturday, April 8, 2023 we will begin conducting road tests on Saturday's (by appointment only) 
ANNOUNCEMENT FOR DRIVER'S LICENSE PHOTOS
Arizona law requires that you update your photograph every twelve years, regardless of the expiration date on your driver's license. To determine whether your photograph has expired, look at the date your license was issued. If your license was issued prior to 2007, your photograph is due for an update.
Please visit our office to update your photo.
Bring your current driver license. You will receive a temporary license at the office and a replacement license with your new photo will be mailed to you.
A $12.00 MVD fee will be charged plus convenience fees.
As an Authorized Third-Party Driver License Provider, a convenience fee in addition to the MVD fee is charged.
This is a good opportunity to update your license to the Arizona Travel Driver License (additional fees and documents required). Effective May 7, 2025, only REAL ID Act-compliant credentials like the Arizona Travel ID and Arizona Travel Driver License, a U.S. passport and other federally approved identification will be accepted at TSA airport security checkpoints for domestic travel.
Please see information located on our website under Services for more information on how to apply for the Arizona Travel Driver License.
Note: If you do not apply for a Travel Driver License, your new driver license will say NOT FOR FEDERAL IDENTIFICATION.
West Valley Motor Vehicle was established in 2007. We are known as a brand that provides prompt and friendly customer service to the communities we serve. Our goal is to let our customers know that they are extremely valuable and are at the heart of our business. Our staff is professional, knowledgeable, customer oriented, bilingual and believes in building trust through positive interactions.
Here at West Valley Motor Vehicle, we are here to assist you with an array of motor vehicle services. Whether you are an Arizona resident or moving to Arizona from another state, or a dealership, we are here to expedite the licensing, registration, title, renewals and everything you need to operate your motor vehicle. Additionally, we are authorized by ADOT to provide driver license services, including written and road tests. We offer the Federal Arizona Travel ID (driver license or ID card), which will be accepted at TSA airport security checkpoints for domestic travel.