Title / Registration Services
Ownership Transfers
Add Owner(s) / Remove Owner(s)
Duplicate Title
Add / Remove Lienholder – Individual or Financial Institution
Salvage / Restored Salvage
Bonded Titles
Transfer vehicles into your Trust – must bring original Trust Documents.
Non-Probate Title Transfers
Out of State Title Transfers – Obtain State of Arizona Vehicle Emissions Testing for vehicle more than 5 years old. For vehicles being financed you must bring in the original loan document or a statement identifying the VIN number.
Mobile Home and Trailer Titles and Registrations
Off Highway Vehicle (OHV) Decals
Golf Carts Titles and Registrations
Classic Car Registration and Historic Plates
Reinstate Registration Suspensions
Off Road All-Terrain Vehicle and Cycles (ATV/ATC) Titles and Registration
Off Highway Vehicle (OHV) Decals
Duplicate Registration
Exemptions – Military and Non-Profits
Clear Registration Suspensions
Motor Vehicle Records – Driver's License / Vehicle Records
Address Changes
De-insured Notices
Sold Notices
Replacement license plate / Lost Tab
Add or update insurance
Abandonment Reinstatements
Registration Penalty Fee Waiver for Non-Use
30 Day General Use Permit
90 Day General Use Permit – both resident and non-resident
Level I Inspections – Vin Corrections / Bonded / Abandoned Vehicles
Level II and Level III vehicle inspections can only be conducted by specially certified ADOT officers at ADOT ECD inspection locations, by appointment only. To schedule an online appointment, please go to servicearizona.com for the date, time and location convenient to you.
Schedule Offsite Level I Inspection for Abandoned Vehicle(s) on your property or for a vehicle that is not running. Call for additional information.
We offer Notary Services for All motor vehicle form transactions – $5.00
Notary Services for Other Documents not associated to vehicle transactions- $10.00
West Valley Motor Vehicle Title Express Mobile Notary Services to help you with your notary needs on personal documents or titles. The person signing the paperwork in front of the notary must have their state ID or Driver's license available when the notary arrives.
This is a new offered service that West Valley Motor Vehicle Title Express is offering to help those that are not able to go to a notary in person, such as homebound, in a nursing home facility or hospital as an example. Our notaries have background checks, are bonded and members of the state of Arizona Notary Association.
Regular business hours are Monday thru Friday for appointments are 9:00 am to 3:30 pm to allow time for travel purposes.
Arizona state regulated fee is $10 per page to be notarized per the Notarial Act.
Effective January 1, 2022 the State regulated Mileage fee is $.585/mile to include round trip travel
A flat fee of $50 will be charged plus the state regulated fee of $10 with a total of $60 within a 5-mile range of 12801 W Bell Road, Surprise, when you call to make your appointment. Each additional page that needs to be notarized will be an additional $10.00. Mileage over the 5-mile radius will be charged an additional $.585 when you schedule the appointment.
All payments are made in advance in person at our office West Valley Motor Vehicle Title Express or by credit card over the phone by calling Cindy at 623-977-0929 x 100 to schedule your appointment or have any questions.  All payments are non-refundable.
Thank you for your continued service and choosing West Valley Motor Vehicle Title Express.
Special Plates / Personalized Plates
Plate Credit / Apply for a Refund
Plate Transfers
Disability Plates and Placards – New / Renew / Lost Placard or Plate
Arizona Driver Licenses and Testing Services
Arizona Driver's License Information
Renewals, replacements, duplicates, reinstatements, new photos, address changes, name changes, new Arizona State Licenses
Written test cut off is at 3:30pm Mon-Fri and Saturday at 1:30pm
Driving test cut off is at 2:00pm Mon-Fri and Saturday at 1:00pm
Effective Saturday, April 8, 2023 we will begin conducting road tests on Saturday's (by appointment only)
Medical Review – Vision Testing only
Arizona Federal Travel ID
Operator License (Class D)
Motorcycle License (Class M)
Graduated Driver License (Class G)
Arizona Federal Travel ID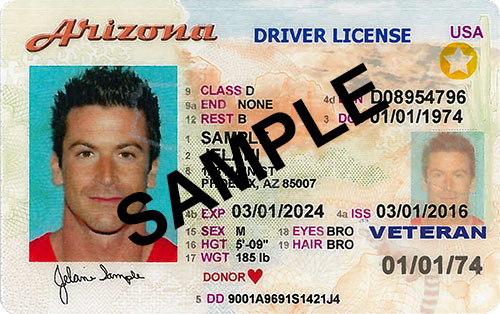 Beginning May 7, 2025, you will need a federally-compliant credential—like the Arizona Federal Travel ID – to get past TSA checkpoints at airports for domestic flight. Without the Arizona Travel ID or other form of federally-compliant identification such as a valid U.S. Passport, fliers risk missing an airline flight because the non-travel driver license will not be accepted at TSA checkpoints.
This credential is distinguished by a gold star in the upper right corner and is available to Arizona residents as a driver license or identification card.
No appointment is needed as we serve our walk-in customers on a first come/first serve basis.
Because the Arizona Travel ID is compliant with the federal standards, you will need to provide extra documentation. This includes:
Bring One Document: Proof of Identity (Birth certificate; U.S. Passport; Passport Card)

If you need a certified copy of an Arizona birth certificate, the Arizona Department of Health Services now accepts online orders with expedited processing.

Social Security Number: just the number, not the card.
Bring Two Documents: Proof of Arizona Residency– two printed documents with your current Arizona residential address – rental or bank statements, credit card, utility bill or cell phone bills in your name with your current Arizona address, etc.
Note: If your current legal name is different from the one shown on a document, you must show legal proof of name change, such as a marriage certificate, divorce decree or court order.
Those who don't have the required residency documents must complete an Arizona Residency Affidavit and supply additional proof of residency.
Transferring a Title and Registration
Arizona state law required that you must put the vehicle in your name within 15 days of the sale date. A penalty fee will apply after the 15 days.
The initial fee for a late registration is $8, plus an additional $4 for each month it is overdue, not to exceed $100.
A signed and notarized vehicle title must be signed by all owners listed on the front of the title based on the Legal Status
On an Arizona title that has multiple owners, the names are determined by the Legal Status which determines which signatures will be required when selling the vehicle or performing other tasks such as adding or removing a name. There are 3 options:

"OR "– Either party can sign without the other being present to obtain a duplicate title, transfer ownership or sell the vehicle
"AND" – Both parties must be present to sign when doing title transactions or selling the vehicle. In the case of death of one of the parties, the vehicle will need to go through probate, or a non-probate application must be submitted with an original Death Certificate
"AND/OR" – Same rules as "AND" but with rights of survivorship. Death certificate constitutes a signature and thus, no probate form is needed.

A notarized lien release, if applicable
If there is a lien on the vehicle that has not been paid off, the notarized original lien release or written permission from the lienholder/lender will be required to add or delete a name.
Any other documents (i.e. original or certified copy of power of attorney, must be notarized, personal representative paperwork, original copy of Trust documents, Non-probate forms, Certified Copy of Death Certificate etc.)
All terrain and off-road recreational vehicles that operate only on dirt roads must be titled and have a plate but are exempt from registration and insurance requirements.
There are 4 options to registering all terrain/off road vehicles:

Title only – cannot be operated anywhere until it is registered
Exclusively off road will be issued a plate and an OHV Decal.
Primarily Off Road will receive reduced registration fees and issued an OHV Decal. Must always carry insurance or submit a De-insured when not in use. A one-year registration is offered only.
Exclusively off road will pay full registration for 1, 2 or 5 years. Must carry insurance or present a de-insured form when not in use.

All motor vehicle title and registration fees plus convenience fees are due at the time of registration
State of Arizona Vehicle Emissions Testing is needed if your vehicle is 6 years old or older.

The vehicle is 1966 or older are exempt from emissions
A Classic Vehicle must have Classic Insurance at the time it is registered and throughout the duration of registration to be exempt from emissions.
Motorcycles or Golf Carts are exempt from emissions
Vehicle is exempt if it is in a county or zip code that is exempt from emissions.
If your vehicle fails the initial or any subsequent emissions test, you will not be charged a penalty fee for late registration renewal if the original test was before the registration expiration date and the registration renewal is completed within 30 days of the original test.
West Valley Motor Vehicle Title Express is now offering Mobile Home Services. There is a $7 title fee for each section of the mobile home with a $30 convenience fee bringing the total to $37.00. Mobile homes that are affixed to real property are not issued titles by MVD. To apply for a mobile home title, please feel free to contact us directly.
Title or Titles (must have), Tax clearance letter reflecting there are no past taxes owed, if applicable, One title per section of mobile home; a double wide will have 2 titles.
Only buyer(s) must be present at MVD to transfer title, however ideally buyer and seller go to MVD to transfer title to help expedite any last-minute issues that arise at the MVD. All forms should already be signed.
If for any reason a lien needs to be placed on the title, this will be done while talking with the clerk that is helping you. The clerk will want to know the name of the lienholder and their address. The new title will be sent to the lienholder's address on file. The lienholder will then transfer the title to you once they are paid in full.
Taxes moving forward for new owner: A yearly tax bill will be sent to the new owner.
Failure to transfer ownership to a new buyer within 15 days of closing date will result in a small fine when title(s) is finally transferred.